The Bruce Trail
One Year Later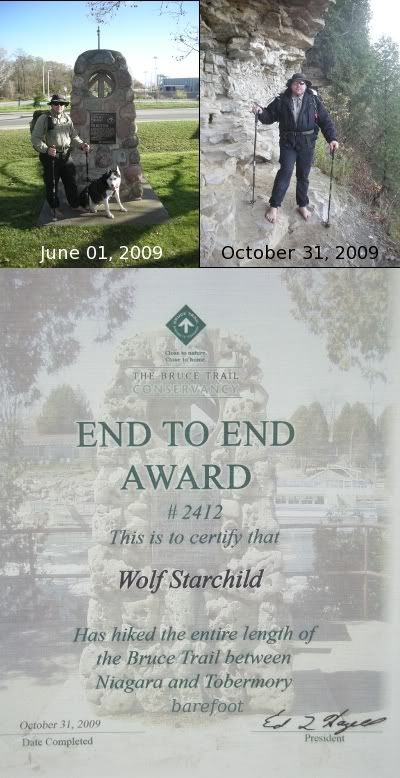 October 31st, 2010 marks one full year since I completed the 880km journey up the Bruce Trail from Queenston, to Tobermory, Ontario.
Reflecting back on the trip, it was the most challenging and beautiful trips I have ever taken. Wrought with danger, peril, and harsh conditions the Bruce Trail left it's mark on my life more than I could have imagined.
During the four month journey I met some really great people, including a couple of other end-to-enders as well as some questionable folks whose motive was not quite clear.
As the summer rain beat down on my head, and my feet beat down on the trails, I fell in love with the giant moss covered rocks, the sheer cliffs, and beautiful scenery of the trail.
The trip would not have been possible without my friends. They were the ones who provided unfettering support and countless rides to and from trail locations in some of the worst summer weather we've had in decades.
Learning first hand about the poor camping conditions of the Bruce Trail, I would never recommend anyone attempt a thru-hike of the trail. I can advise you this the trail is not designed for more than simple 15-20km day hikes. The Bruce Trail Conservancy will concur.
Above all else I proved that modern people can walk barefoot hundreds and hundreds of kilometres without the perceived injuries and certain death as touted by the narrow minded. I received quite a lot of media attention through the hike, as well as some interviews which were a lot of fun.
The Bruce Trail experience left a deep mark on my psyche which I don't think will ever go away. Each time I do short day hikes on the trail, I still remember when it was just myself and my husky Luka. I frequently find myself talking to people about the experiences on the trail. Although not the longest or most difficult trip, the Bruce Trail experience seems to dominate my thoughts.
The question I am asked frequently is "what's next?" The answer is I am currently working on a college diploma with an outdoor education focus, and will hopefully get some more long distance travel in during the summer months.