In May of 2010, my doctor recommended I take a few months stress leave from my office job in order to deal with a lot of stuff that has been going in in my private life.
I took a trip to Frontenac Provincial Park for a short, four day backpacking trip.
Frontenac Provincial Park, just outside of Kingston, Ontario is one of those "best kept secret" places. There are few visitors. This is mostly because there is no car camping available. All campsites are classed as "Interior", meaning you have to backpack into the campsite.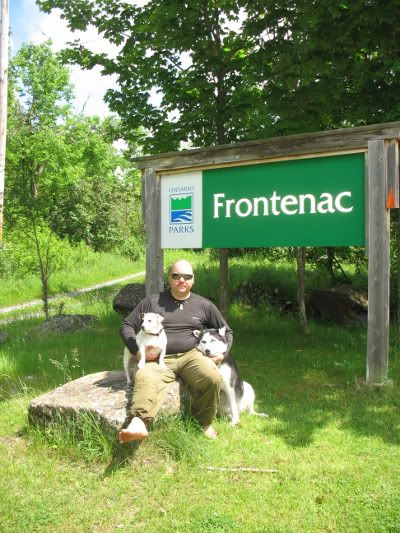 The park has a lot to offer those seeking a wilderness experience but don't want to drive ten hours north of Toronto. The park is only about three hours from Toronto and can easily be reached by taking Highway 401 towards Kingston.
A word to the wise, obey the speed limit signs of the area. The sharp curves are posted at 30km/h. I was going a little fast, and was quickly forced to slow down to avoid hitting a guardrail.
Park Staff are friendly, and helpful. Registration was quick and easy. Frontenac Park is truly a wilderness environment. Be sure to go prepared with proper equipment for all weather. Everyone knows it always rains when you go camping.
Long, compacted dirt trails are easy on bare feet, and there are few steep hills heading to the campsites. There are a few low lying muddy areas scattered across the trails. Few of them have bridges to keep you dry.
Wildlife is everywhere. On the hike to the campsite, I was lucky enough to see deer, snakes, frogs, tadpoles, chipmunks, and even large snails. There are a multitude of small lakes which are host to beaver dams, and the occasional beaver sighting. Be prepared for bear encounters.
Divided into "clusters", the parks campsites were clean, well maintained and fairly distanced from each other. There was a good sized throne room a few minutes walk away from the campsite. The view of Little Salmon Lake was spectacular. A small sand filled pack was installed to give even ground on tents and minimise environmental impact. My campsite even had wood sitting by the steel firepit.
Myself and Luka were the only people at the campsite for the three days we spent there. We didn't run into anyone else – except chipmunks and dragonflies.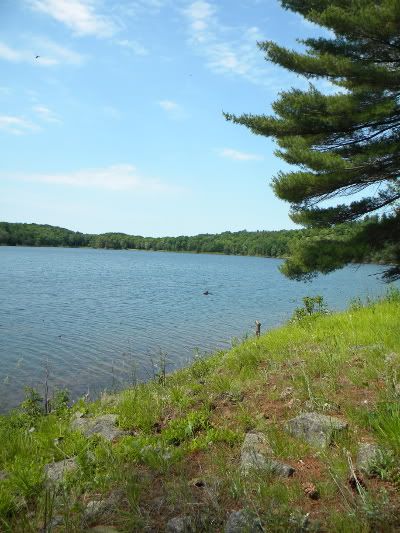 Surrounding the campsite are networks of trails. Some of which lead to abandoned mines, old homesteads, and panoramic views of the wilderness.
The day of departure, I awoke to the sound of rain on my tent. Packing up and leaving camp is always a bit of a challenge when it's raining.
Well planned trails made travelling in the rain easy. The boggy areas could be a bit of a challenge for the shod, as wet shoes and socks can create blisters. Barefoot travel through the mud is always easy and bare feet dry quickly.
Frontenac Provincial Park is worth the visit if you are seeking a quick get-away into the wilderness which is close to home.
The complete photo slideshow can be found
here